The holiday season brings with it a sense of warmth, joy, and a touch of magic. And what better way to infuse your Christmas celebrations with that enchanting spirit than by incorporating wool felt Christmas products into your decor and gift-giving? From whimsical ornaments to cozy home accents and delightful crafts, these handcrafted wonders add a unique charm to any festive setting. In this article, we take on a delightful journey through the world of wool felt Christmas products, where we'll explore their history, versatility, and provide a curated selection of exceptional items that will inspire and delight you and your loved ones. So, let's unwrap the wonders of wool felt and make this holiday season truly unforgettable!
Why Choose Felted Wool Christmas Decorations?
Christmas decorations mean countless possibilities. However, felted wool ornaments and decorations are the perfect choice if you're looking for something truly special and enchanting. Here are some compelling reasons why you should consider incorporating felted wool into your holiday decor:
Unique Qualities and Benefits:
Felted wool ornaments and decorations have a distinct charm that distinguishes them from other materials. The soft, textured surface of felted wool creates a cozy and inviting atmosphere, evoking a sense of warmth and nostalgia. The tactile appeal of these decorations adds a delightful sensory experience to your holiday celebrations.
Rich History and Traditions:
The use of felt in holiday decor has a long-standing history and carries a sense of tradition. Felted wool has been used for centuries in various cultures to create decorative items for festive occasions. By choosing felted wool decorations, you connect with this historical legacy and infuse your home with a timeless festive spirit.
Cozy, Rustic, and Eco-Friendly Touch:
Felted wool brings a distinct coziness and rustic charm to your Christmas celebrations. The natural fibers of wool provide a warm and inviting ambiance, making your home feel snug and welcoming during the holiday season. Moreover, felted wool is a sustainable and eco-friendly material choice, aligning with the growing trend of conscious consumerism and environmentally friendly practices.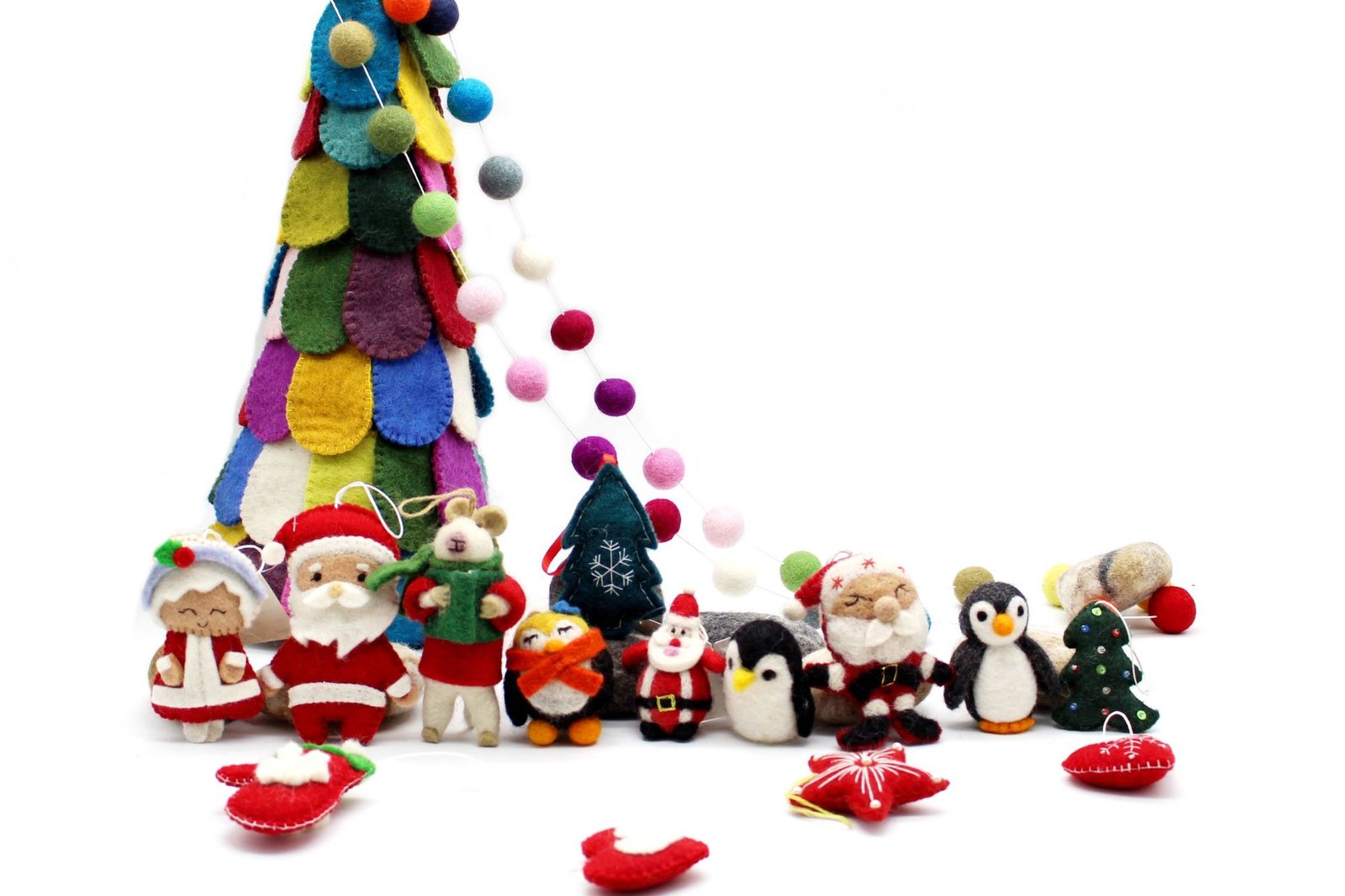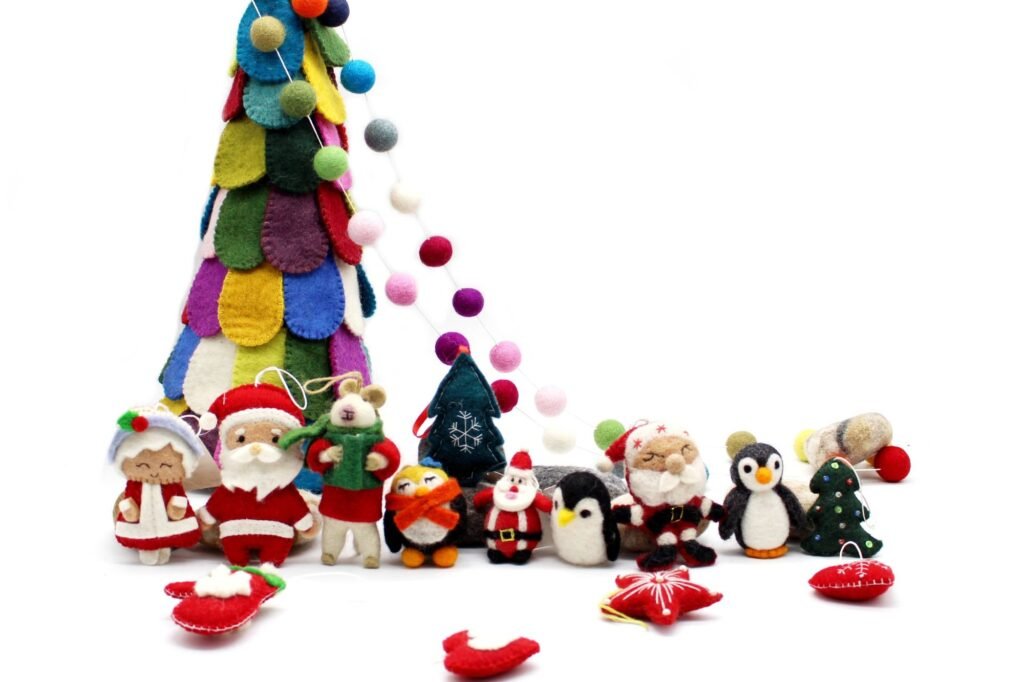 Unveiling Our Handcrafted Collection:
At Woollyfelt, we take immense pride in curating a handcrafted collection of felted wool
Christmas decorations
. Each piece is meticulously crafted by skilled artisans, ensuring exceptional quality and attention to detail. Furthermore, wool felt Christmas products offer a delightful opportunity for personalized and DIY projects. Let your creativity soar by customizing felted wool ornaments with embroidery, beads, or fabric paints. You can also involve your family and friends in crafting sessions, creating cherished memories as you work together to make unique decorations. DIY felted wool stockings, tree skirts, or garlands add a personal touch and become treasured heirlooms passed down through generations. Embrace the joy of handmade creations and infuse your Christmas celebrations with a sense of heartfelt artistry.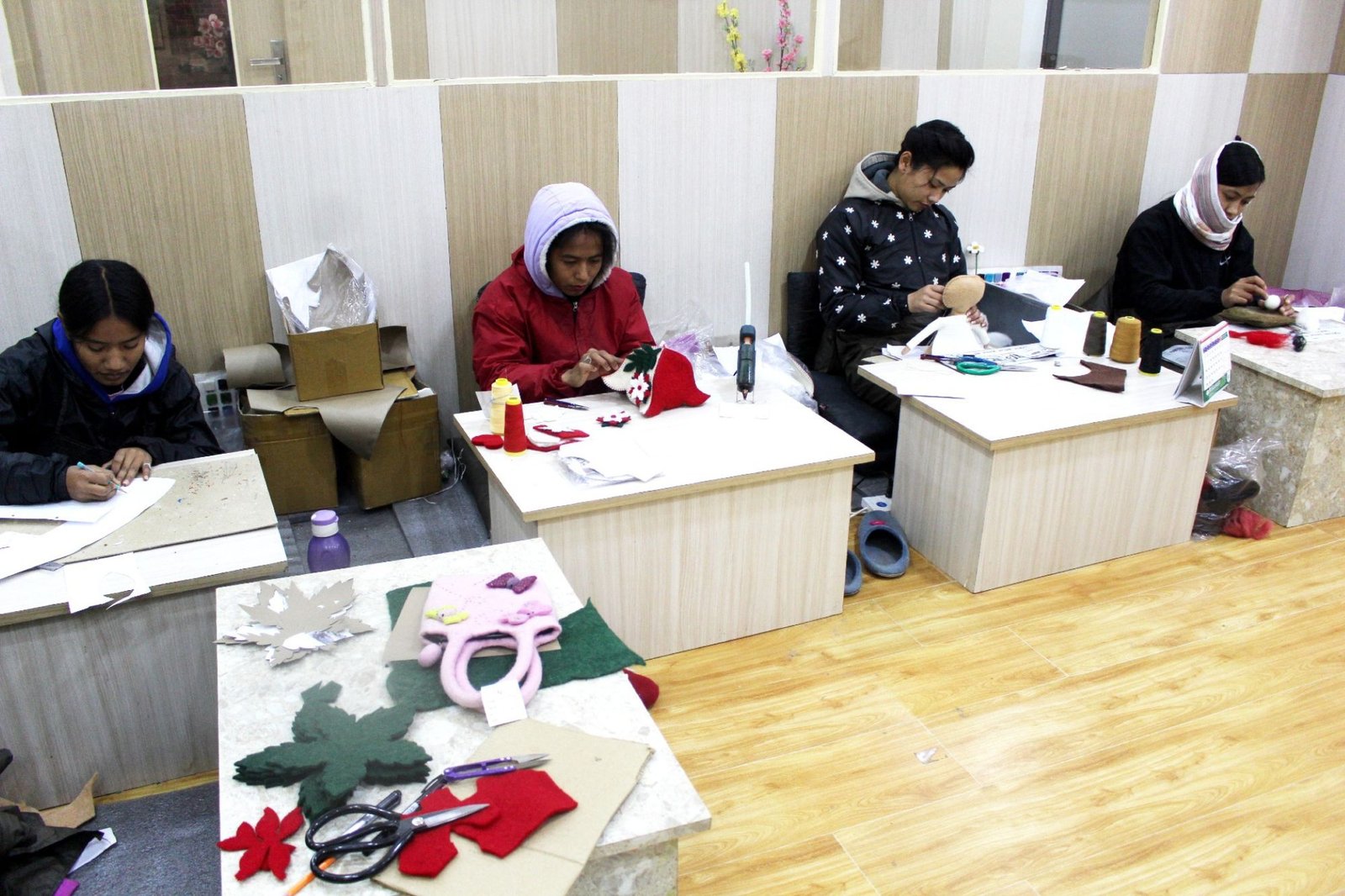 Decorating Themes and Styles
Whether you prefer a traditional, modern, Scandinavian, or rustic look, felted wool decorations can be seamlessly incorporated into any theme. Let's explore these popular decorating themes and discover how you can incorporate the charm of felted wool into each one:
Traditional Christmas:
For those who appreciate the timeless beauty of a traditional Christmas, incorporating felted wool decorations can add a touch of nostalgia and warmth. Hang felted wool stockings by the fireplace, adorn the tree with handmade felted wool ornaments, and drape
garlands
made of felted wool balls across the mantel. These classic elements will evoke memories of cherished holiday traditions and create a cozy atmosphere.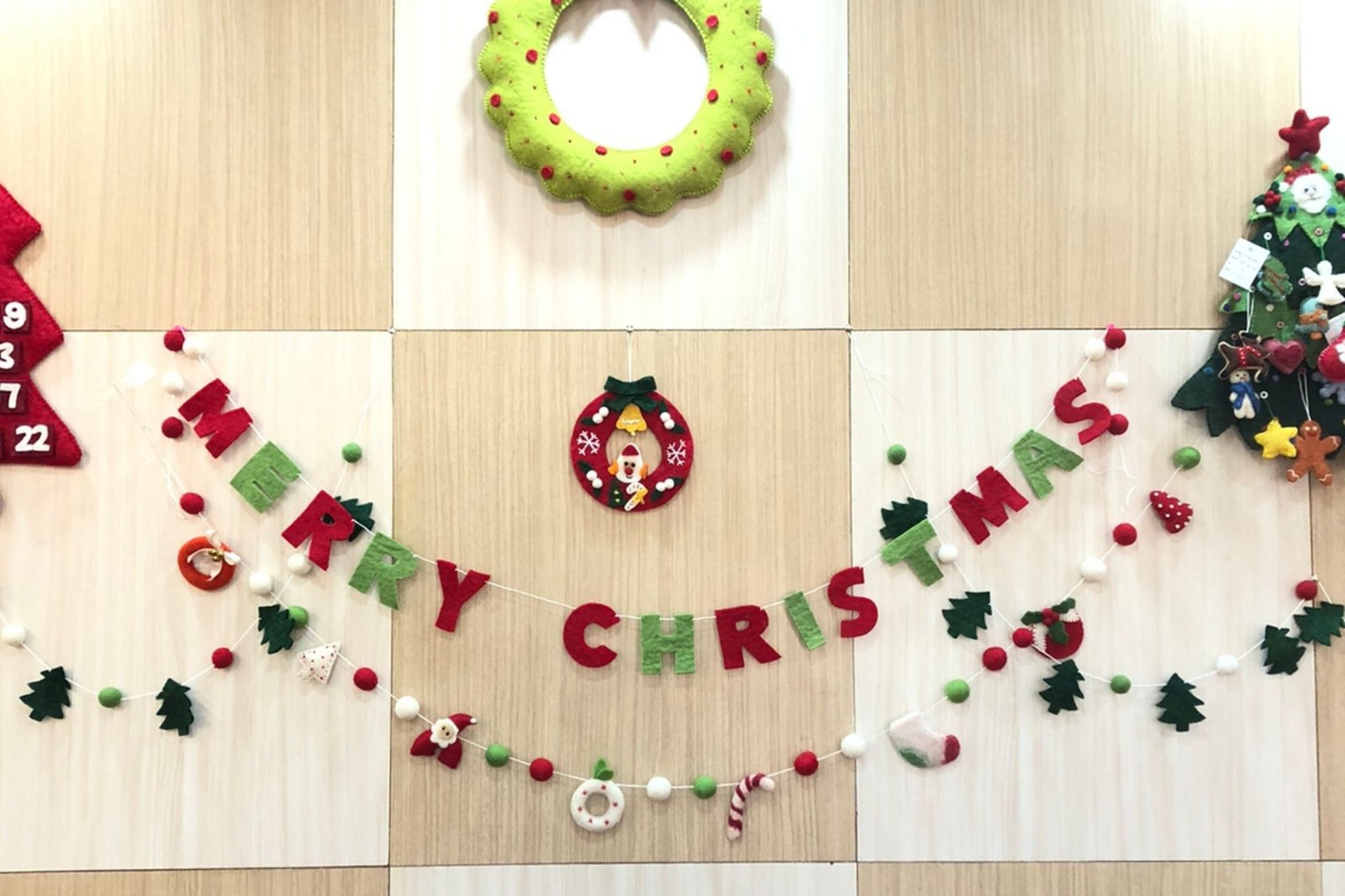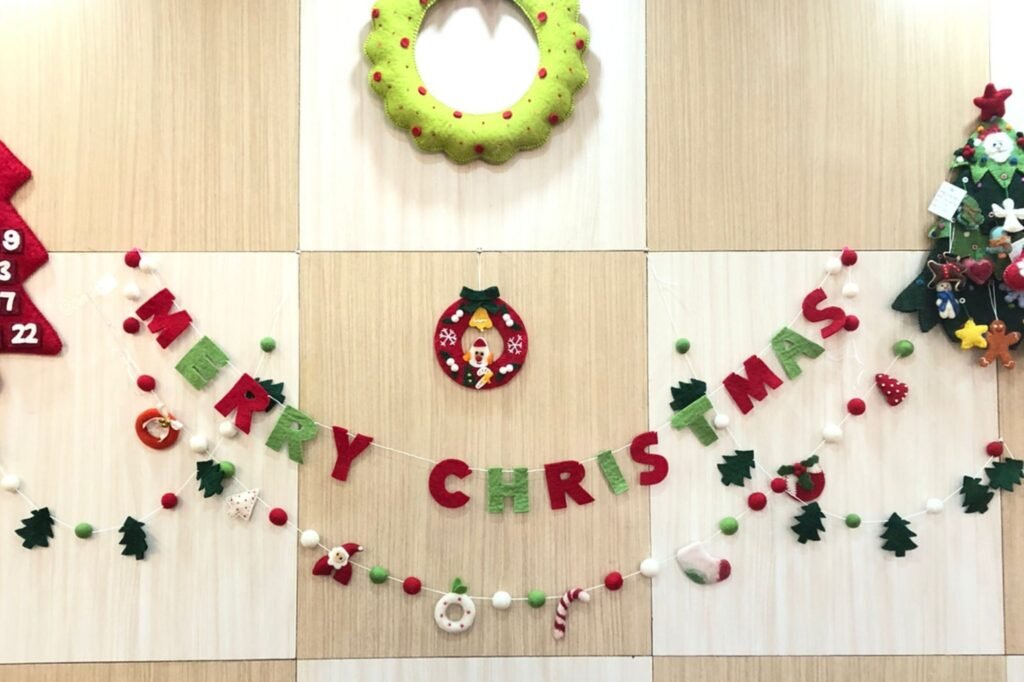 Modern Elegance:
If you prefer a sleek and contemporary look for your Christmas decor, felted wool decorations can provide a sophisticated touch. Opt for minimalist felted wool ornaments in geometric shapes or monochromatic colors. Create a stunning centerpiece by arranging felted wool spheres of varying sizes on a mantle or tabletop. The combination of modern design and the tactile appeal of felted wool will elevate your decor to a new level of elegance.
Scandinavian Simplicity:
Scandinavian design is known for its clean lines, natural elements, and cozy minimalism. Incorporating felted wool decorations into this style is a perfect match. Hang felted wool snowflakes from the ceiling, display a felted wool tree topper on your evergreen, and place felted wool garlands on staircases or windowsills. These simple yet charming additions will infuse your home with Scandinavian-inspired warmth and tranquility.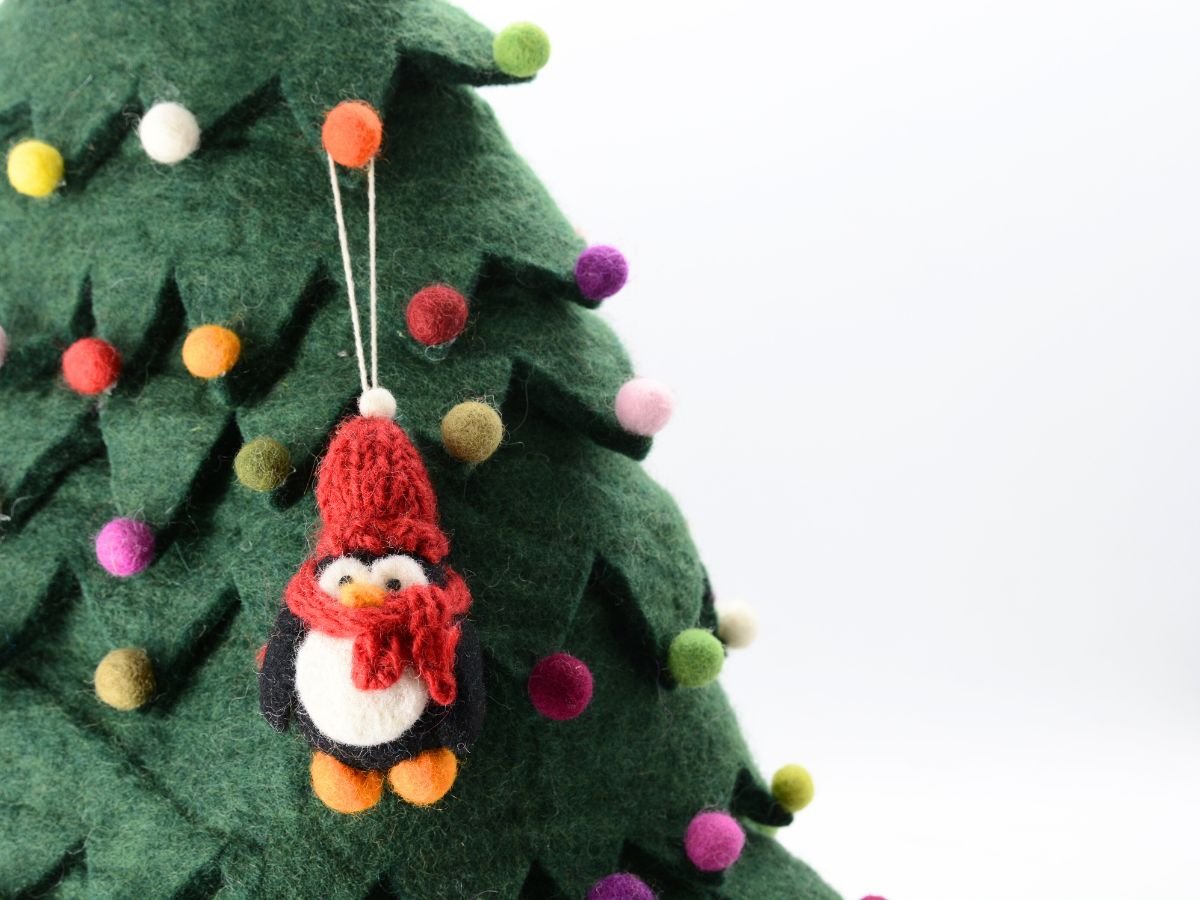 Rustic Charm:
For a cozy and rustic Christmas ambiance,
felted wool decorations
are an ideal choice. Combine felted wool ornaments with natural elements like pinecones, twigs, and burlap to create a woodland-inspired theme. Adorn your wreaths with felted wool acorns or berries, and use felted wool stockings with rustic accents. The combination of textures and earthy tones will bring the beauty of nature indoors, creating a warm and inviting atmosphere. To bring these decorating themes to life, consider using inspirational visuals to showcase the possibilities. Include photographs of beautifully decorated spaces featuring felted wool decorations in various styles. Additionally, provide practical tips on how to arrange and combine different elements to create visually stunning displays. Offer suggestions on color schemes, placements, and DIY projects using felted wool to inspire your readers to unleash their creativity. With felted wool decorations, you have the flexibility to transform your home into a festive haven, regardless of your preferred decorating theme. Explore the different styles, experiment with combinations, and let the versatility of felted wool enhance your Christmas decor with its undeniable charm and beauty.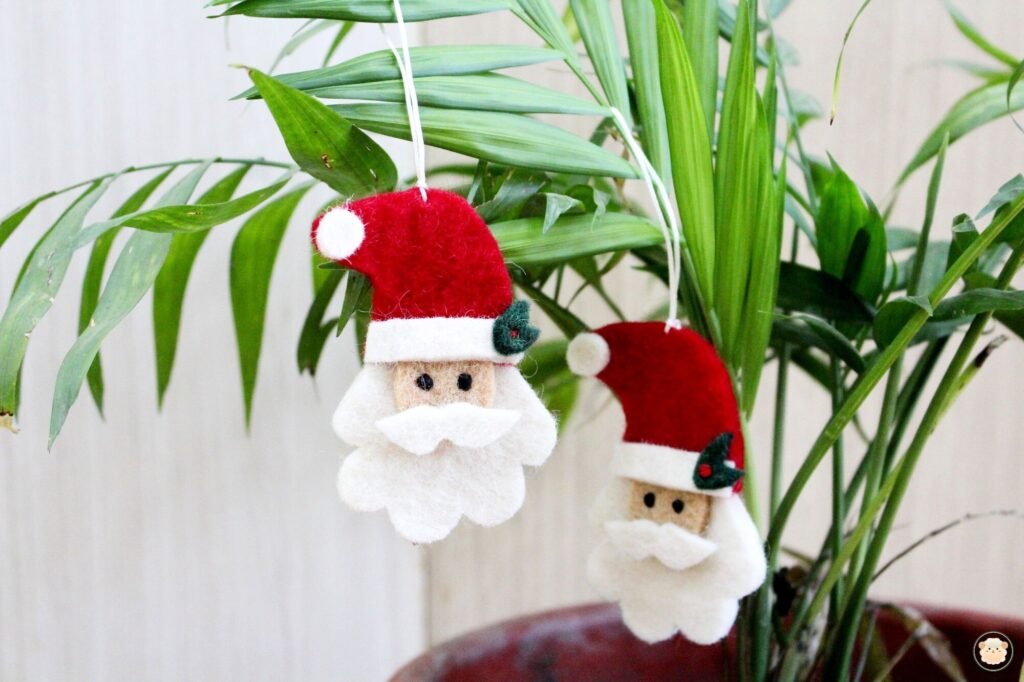 Finally
With endless possibilities, felted wool decorations can seamlessly fit into any decorating style, be it traditional, modern, Scandinavian, or rustic. Embrace your creativity and explore different arrangements and combinations to bring your vision of a magical Christmas to life. So, this holiday season, let the wonders of wool felt transform your home into a joyful and enchanting haven. Celebrate tradition, create cherished memories, and embrace the delightful charm of wool felt Christmas products. Unleash the magic and make this holiday season truly unforgettable.